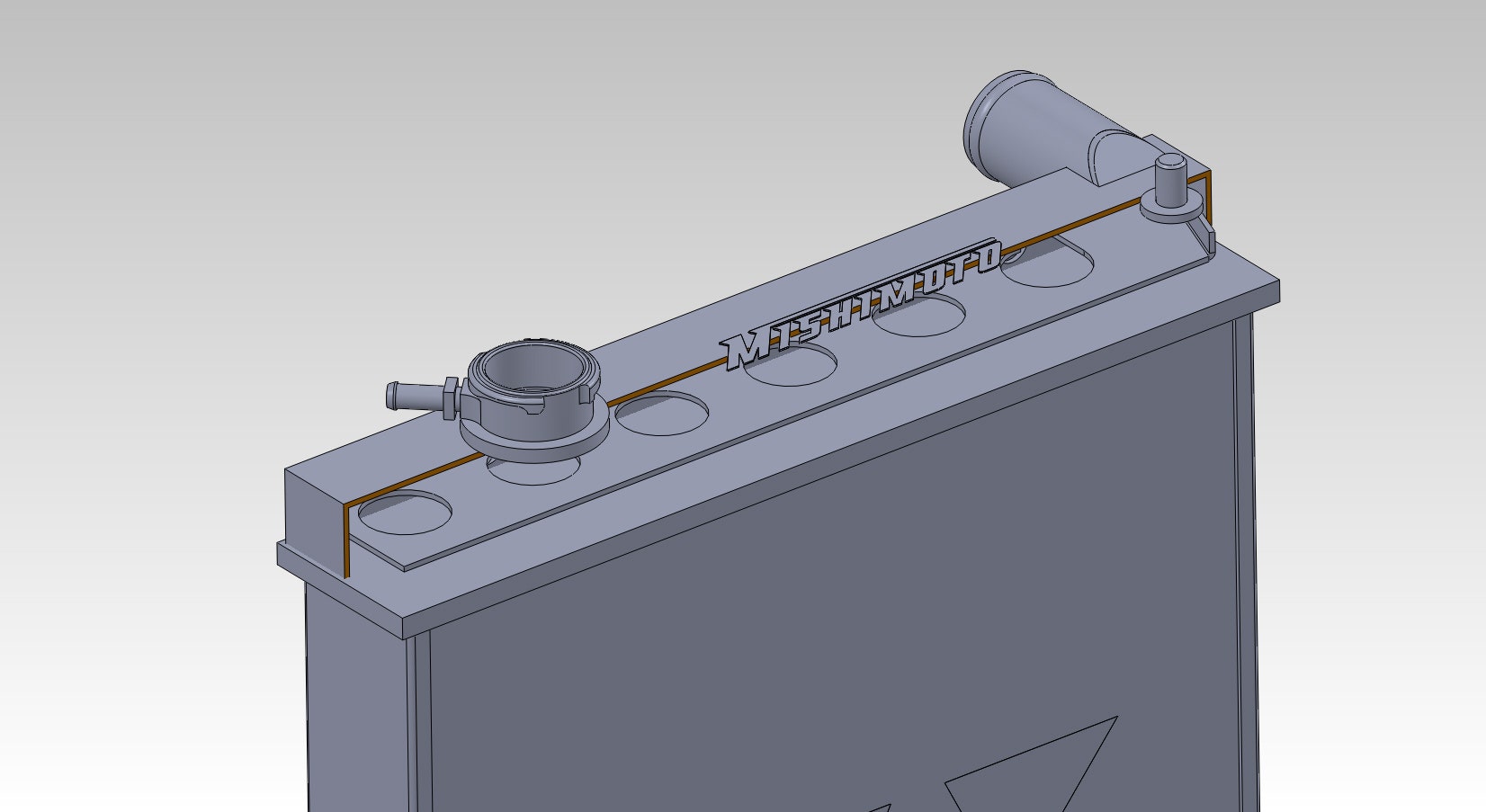 2001-2007 Mitsubishi Lancer Evolution Half-Size Radiator, Part 2: Final Testing and Completion
Posted:
February 12, 2014
Interested in purchasing our Evolution radiator? Check out our product page for more details!
With our design essentially solidified, and our prototypes ready to be put into action, it was time to perform another test fit and gather data. Lucky for us, one of our new engineers (Steve) happens to daily drive an Evo 9, and we talked him into allowing us to use his car for development. Steve's Evo is making around 350 hp to the wheels with a few modifications and quite a helping of boost. This should be a great vehicle for our second round of testing.
Into the shop and onto the lift it went. The radiator was installed without any issues. We were able to bolt the factory fan shroud to the radiator and also fit the factory hoses. Score!
The end tanks fit perfectly with the radiator support, and our fabricated upper bracket provided additional support for the radiator.
After reviewing the fitment and our notes, we established a plan for our final design.  The engineers decided to add an internal baffle to the upper radiator end-tank. Because of the placement of the inlet and outlet, the coolant tends to take the shortest route through the radiator. This results in a lower cooling efficiency because the heat transfer time is much shorter.  An internal baffle would force fluid to reach the entire core, thus promoting greater exchange of heat and improved reduction in temperatures from inlet to outlet.
We wanted to move the upper hose, but we were still concerned about using the factory hose. By rotating the hose 180° we were able to mate it properly to the new inlet location on the end tank. With the inlet and outlet now located on opposite sides of the radiator, the fluid dispersion would be even greater, further enhancing the cooling efficiency of this radiator.
Our finished product is quite impressive and should be right at home in high-horsepower builds. Each feature fits perfectly, from the lower mounting points to the fan shroud mounts. We reached all our goals, and we are very confident that this radiator will provide ideal cooling for drag strip and autocross vehicles. This summer we plan to obtain hot weather testing data as additional supportive information.
Let's go over the checklist once again in detail!
Goal - Design a direct-fit radiator for the Evo 7/8/9 chassis with no cutting or trimming required.
Result - This radiator fits without any cutting or trimming. We included an additional upper radiator stay for greater support.
Goal - Allow for full function with OEM hoses and factory fan shroud.
Result - Thanks to precise inlet/outlet locations and fan shroud mounting points, this radiator works perfectly with factory hoses and fan shroud. Optionally a slim fan can be used for even greater engine bay clearance.
Goal - Provide sufficient cooling and space for large/front-facing turbocharger setups.
Result - This radiator frees up the entire passenger portion of the radiator support, providing space for large/front-facing turbochargers. The radiator is ideal for use in short spring racing such as drag events and autocross.
Goal - Offer at a reasonable price point for customers.
Result - Pricing for this product will be within the budget of any build!
Looks like we hit everything we were intending to achieve. It is always nice to see a project like this go smoothly. Be sure to check back this summer for updated warm weather testing data for this radiator.
Feel free to follow up with any questions or comments. I would be happy to answer them!
Thanks
Interested in purchasing our Evolution radiator? Check out our product page for more details!