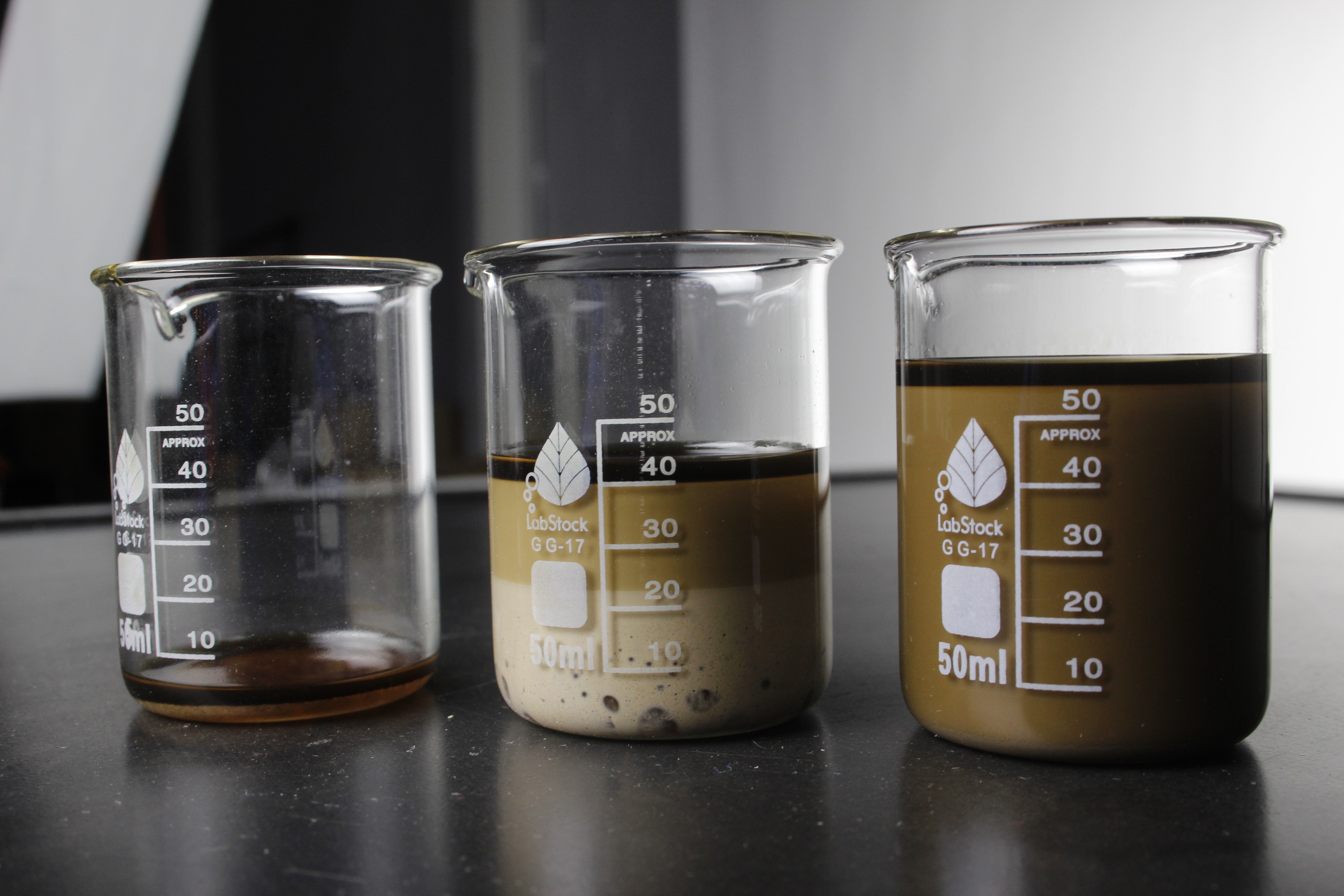 Bye-Bye Blow-By - Catch Can R&D, Part 3: We All Love A Comeback Story
Who doesn't love a good comeback? Rocky, Hoosiers, Robert Downey Jr., and Lindsey Lohan (kind of) are all prime examples of what makes the comeback story so compelling. The theme behind any good comeback is perseverance - not giving in to the will to stop.
Unrelenting perseverance will lead to beating seemingly impossible odds. It's what led the 2005 Liverpool soccer team to beat the heavily favored AC Milan squad in penalties, and the 1993 Buffalo Bills to defeat the Houston Oilers from 32 points down, overcoming the largest point deficit in the NFL to date. Without perseverance, you won't go very far in whatever it is you do. Our engineers take this idea quite seriously at our R&D headquarters, and while the catch can project for this 2015+ Ford F-150 EcoBoost has been stalled for some time, it never really went away. There have been interesting challenges to get around during our R&D, but we finally have something you're going to love.
Tough Times with the 3.5L
There were a few hurdles we had to overcome to get to where we are now. For the longest time, a CEL (check engine light) kept popping up on the dash of our donor 3.5L F-150, and it was tough to figure out why. We initially thought the hose size was triggering the CEL due to the vacuum value changing within the system. Then we thought that the sensor within the CCV line was the culprit. To be sure about what the problem was, testing took months, and it wasn't the only thing we had to concern ourselves with.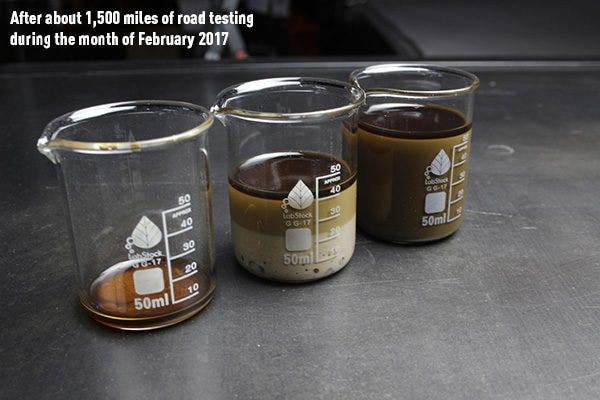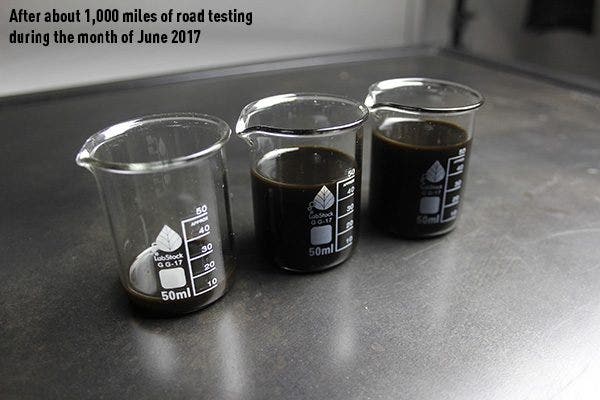 Another longstanding issue was the can size. The PCV-side can had to be emptied so often that it was becoming inconvenient to service. As the months rolled by from winter to summer, the frequency at which the can needed to be serviced stayed the same, with the blow-by amount between servicing increasing more and more as the weather warmed. As a quick fix, we lengthened one of our spare two-ounce cans, using spare materials, to make it about the same capacity as our catch can kit for the 2016+ Nissan Titan XD, which holds four ounces. This made the can-emptying intervals longer, but still not long enough for our liking.
Designing an entirely new can just for this application came into consideration, along with a completely redone bracket, since the can would weigh a bit more, have a higher capacity, and a larger overall diameter. Our engineers knew that this was going to take some time.
Time to Problem Solve
Unfortunately, challenges cause project setbacks. Let's start with the CEL issue. We found out that this wasn't an isolated incident. As we dug more and more through various forums and consumer feedback, even completely stock EcoBoost 3.5L F-150's were getting CELs. It wasn't too surprising that we kept getting the light as well. We cover a lot of this in the last update.
These sensors are sensitive, and a lot of them were faulty from Ford, so it was tough to escape the code. We thought to look at the pressures going in and out of the can to see if something could be done there. Our catch cans have a slight restriction due to the bronze 50-micron air filter inside of them, but it's generally negligible in most of our applications. On this truck, we had the sensor placed on the inbound line of our catch can system. It turns out that line had a bit more pressure running through it than the outbound line.
A simple switch of sensor placement solved the issue. We moved the sensor to the outbound catch can line and never saw the code again. Around 2,000+ more miles were put on the truck to ensure it wouldn't come back. Problem solved! The kit worked, catching a ton of blow-by and not throwing codes. We now had the challenge of making the kit convenient.
The PCV-side can was catching too much blow-by. If I were to take a road trip in one of these trucks from our headquarters in New Castle, DE to the Road Atlanta track in Braselton, GA (about 725 miles one-way) and back, I would probably have to completely empty the can after the trip so it wouldn't overflow. Something had to be done.
Remember how I said we contemplated making a completely new can? Well, our engineer experimented with a few designs for a larger catch can for the PCV side of this 3.5L EcoBoost. In the above image, the printed prototype on the right shows the design that was chosen. It has a 12-ounce capacity, which would lengthen service intervals. While this will be a brand-new catch can that we have never offered before, it will still include internal air diverters, an air filter, and an aluminum baffle, keeping it just as efficient as our regular sized catch cans.
About Time
I initially said that we will design a kit to fit both this truck and the 2.7L EcoBoost, but that clearly changes with an entirely new can developed. We've tailored the designs to only fit the 3.5L, so features like line routing and bracketry will not be interchangeable between the two engines. You will still have some options though. Even though the CCV side doesn't catch nearly as much as the PCV side, it's still good reassurance, so this kit will be offered as a PCV-side kit only and a PCV/CCV full kit. See below for what the prototype brackets will look like.
Below is what our final prototype kit looks like installed. We axed our initial plans of using silicone hoses for black rubber lines that add a bit of an OEM feel to the kit. I omitted the engine cover so you can see how the lines route"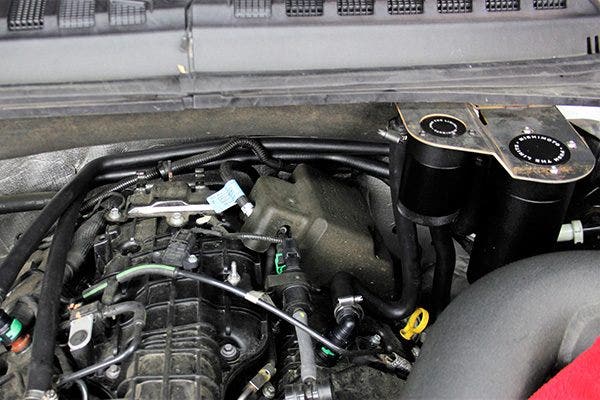 "but it fits perfectly with the engine cover on.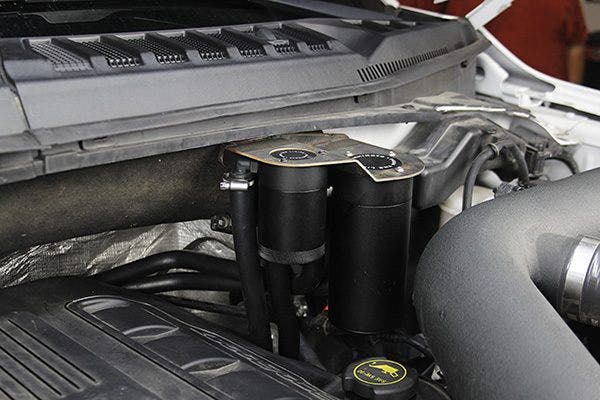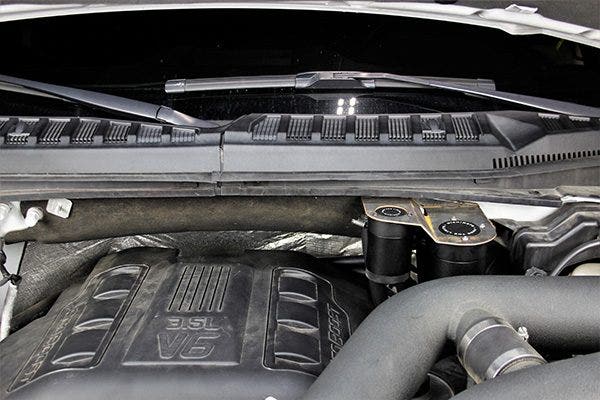 As these design changes begin to take form, it's important to recognize how different this project is from even six months ago. The fitment is completely different, an entirely new can just for this truck has been created, and we are no longer concerned about any codes. All we need now are some production samples of the entire kit to make their way to our R&D facility to do some final test fits before we kick off official production. This project is closer to ending than you think, so stay tuned.
For all of those who have kept their interest alive for this catch can, I'd personally like to say thanks for sticking with us. Up next, project updates on the 2.7L kit - this time, arriving much sooner, I promise.
-Diamaan