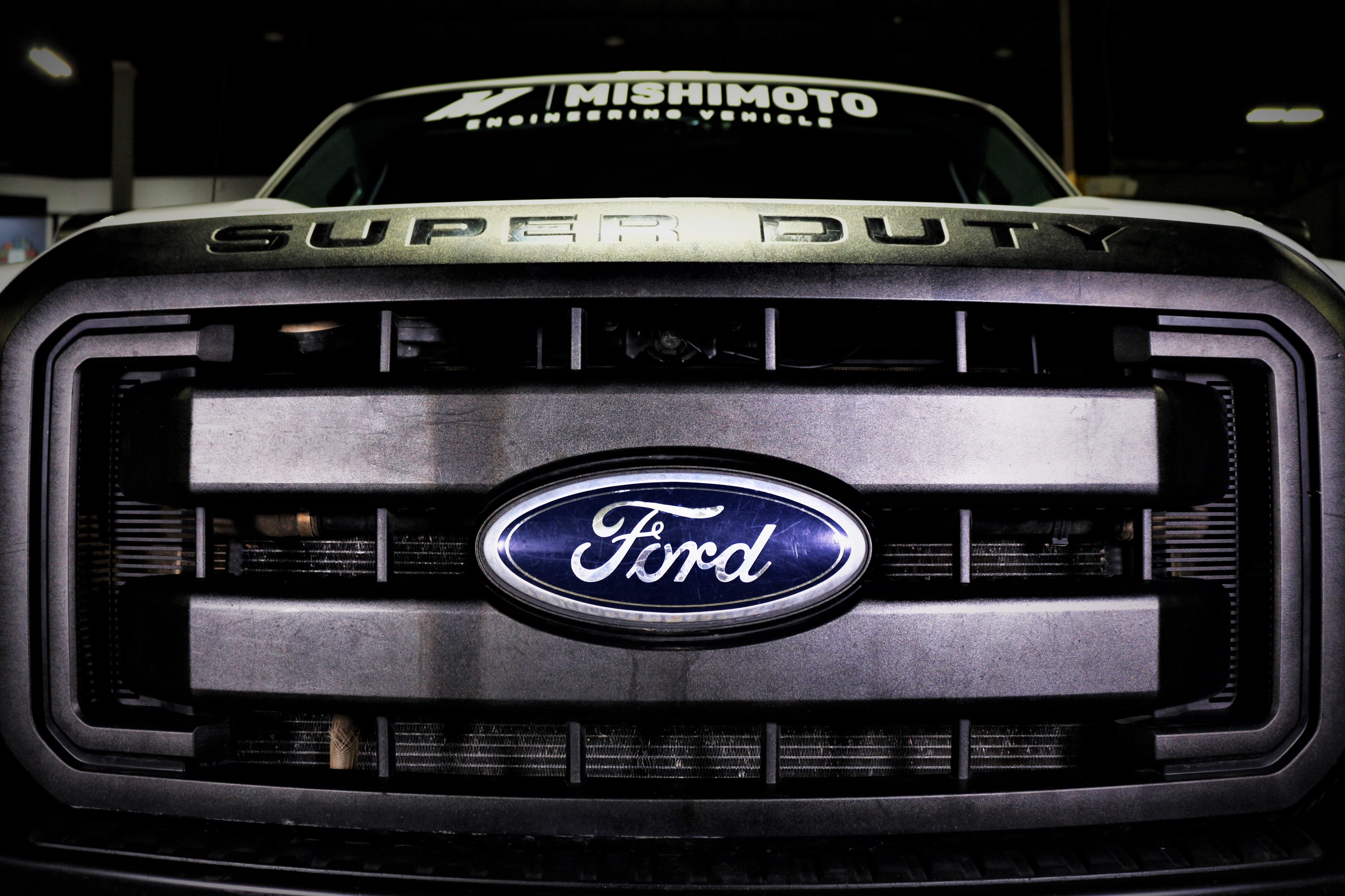 Old Dog, New Tricks - Intercooler R&D, Post 1: A Core Review
Everything about Ford's Super Duty Powerstroke brand screams, well, Super Duty. It has done so since they were first put in the Econoline Vans in the mid "90's. Our 2011 is equipped with the 6.7L turbodiesel V8 engine, and it's clear Ford has engineers who really took the Super Duty term to heart. There are two batteries, two radiators, two thermostats, two coolant expansion tanks, an engine oil cooler, a transmission oil cooler, an EGR cooler - this truck even has a fuel cooler. Just looking at the engine bay of this monster can be a bit daunting, especially to a guy used to dealing with smaller, beat up, four-cylinder engines. Fortunately, our engineers are well-versed in the nuances of this truck, as we already have many items out on the market for this application including a full charge pipe kit and both upgraded secondary and primary radiators.
One component we have yet to tackle is the intercooler, or the charge air cooler (CAC) as it's referred to in by some in the big-displacement truck communities. This isn't your run-of-the-mill intercooler. It handles heat transfer in a different fashion than what we are used to seeing. Most intercoolers are designed to be air-to-air heat exchangers, relying on incoming airflow to cool the air going to the engine. But this intercooler uses what is called a water-to-air design.
From Air to Water
An air-to-water intercooler is where a heat exchanger uses water to absorb the heat coming from your turbo or supercharger and expel it into the atmosphere. The water is cooled using a secondary, external radiator, and is continuously cycled through this system with the use of a pump. While the coolant and air don't actually make contact, the heat transfer is extremely efficient and in many ways superior to the typical air-to-air type setup.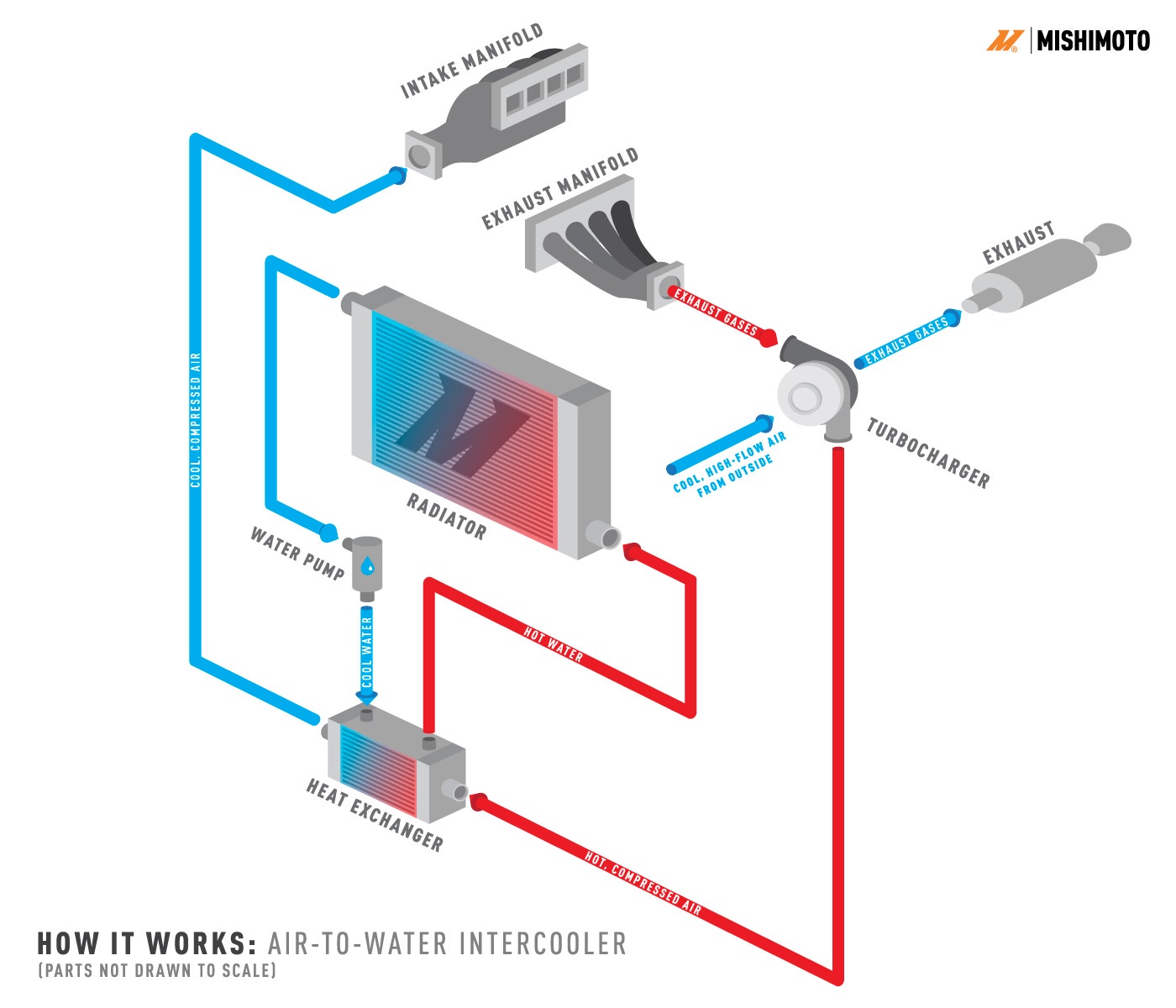 There are a lot of benefits to using a water to air setup. The intercooler cores are generally much smaller, saving weight and allowing for creative mounting options. This also means less piping is required, which offers reduced turbo lag and getting the turbo or supercharger to peak boost faster. You can even supplement these parts with ice or other specialized cooling agents to produce temperatures that would be almost impossible with even the best front-mount air-to-air design. So why don't most cars use this type of intercooler?
A setup like this is generally saved for heavy-duty applications like high-performance drag racing or those in need of quick yet significant bursts of power. It requires several extra accessories to work properly, advancing its complexity and widening the opportunity for issues like leaks (water and/or boost) if done poorly. Regardless of the complications involved, there are still vehicles with water-to-air intercooler setups. Both the Mercedes-Benz CLA45 AMG and BMW's M3/M4 have one as a factory part.
These setups aren't only found on modern applications either. While there is a lot of time and work that goes into creating a water-to-air intercooler setup for your boosted application, it has been done. Just don't go looking for a direct-fit kit for your project car that uses a factory air-to-air setup. You'd be hard-pressed to find one. My buddy, who competes in Pro-am drifting, has used an air-to-water intercooler on his 1992 Nissan 240SX. At the time, it was swapped with a heavily-tuned SR20DET engine (he's got an even cooler build now, check out his page @fedoraslide). He had to source, design, and fabricate the intercooler hose routing, secondary radiator mounting and brackets, source the correct pump, etc. It was a unique and efficient setup, you just don't see many drift cars with complex cooling systems, even at his level. The car wasn't entirely put together when the shot below was taken, it's just to give you an idea.
Ford's Special Cooler; And Our Plans For It
This turbodiesel 6.7L Powerstroke is no stranger to water-to-air intercoolers. These trucks have had this type of intercooler since their introduction to the market in 2011, but it didn't come without its flaws. A truck with such redundant yet necessary engine protection only means one thing - they were made to be workhorses. A lot of the 6.7L Powerstrokes on the road are work and fleet trucks, which means they need to be worked to the bone with, hopefully, minimal maintenance involved.
An in-depth inspection of this core is necessary to help decide our direction in making a better intercooler. The core is stacked with outer wall ridges to help separate the interior cooling passages. When making these, a dye stamps out the dents on the exterior of the core, while fins are stacked on the interior. A design like this is actually pretty strong, relatively cheap to make and easy to construct. We confirmed this by firing up our water jet to slice our brand-new $500 intercooler sample from Ford, in half.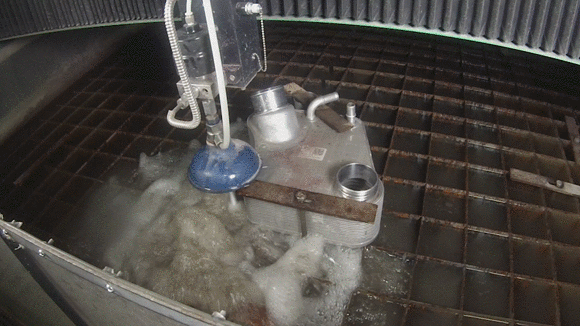 You can see that the stacks are not very thick, only a few millimeters. They are easy fail points as their connections aren't strong enough. This issue becomes serious when the engine is constantly exposed to high boost pressures, and gets even worse if high mileage starts to take its toll. These factory intercoolers will begin to separate and crack at the stacked seems, causing boost leaks. Strength must then be a prerequisite for our design. We want our core to be as strong as possible, so cast end tanks will be incorporated in our final design.
While the bulk of the research part of this is finished, we still want to figure out a few more things and play with a couple design ideas before we continue. We are creating a bar-and-plate core design that we have never done before and the way to successful completion is through diligence. Stay tuned for the next update!
-Diamaan