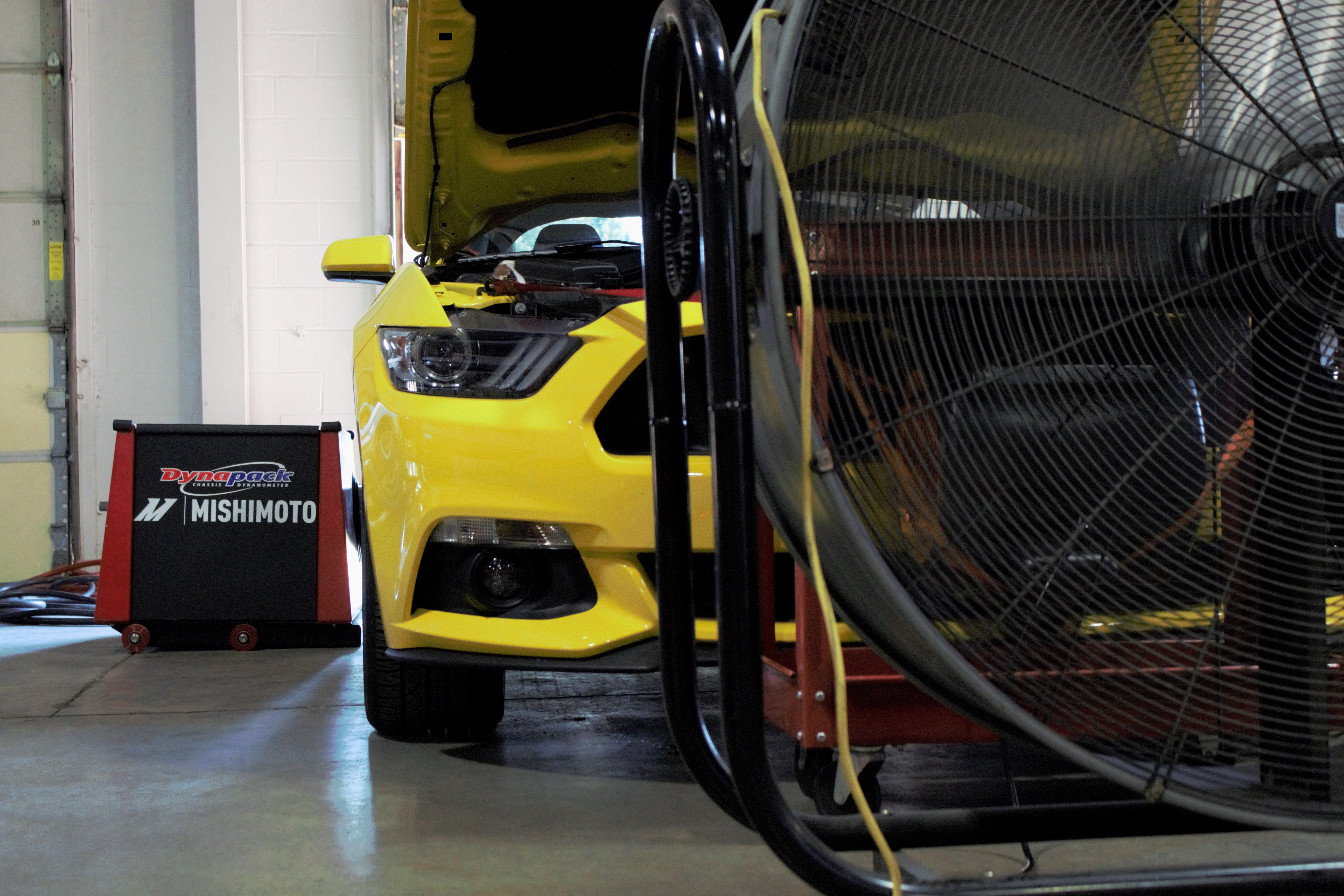 Keep your Cool- Transmission Cooler R&D, Part 3: Test Results
Posted:
November 09, 2016
The yellow GT is back in our R&D facility to show us a thing or two about testing trans coolers. Upon the GT's arrival, we wasted no time getting the pony car saddled with our testing rig.
We couldn't have asked for a better day for our Mustang transmission cooler testing. We began testing on a beautiful fall afternoon with an ambient temperature of 70°F and 40% humidity. However, this would be no easy day for this brightly-colored beast. With the GT fiercely perched on our Dynapacks, we began testing by applying a constant load to the Mustang. The car was run on the Dyno at 70 MPH in 6th gear, with the dyno producing 60% load, for a grueling 5 minutes in order to ensure the transmission cooler was heat-soaked. We then reduced the load to 36% for another 5 minutes to complete our test.
Results
The Mishimoto trans cooler was able to reduce temperatures by 18°F when compared to the stock transmission cooler. This temperature reduction came with less than 0.5 psi of pressure loss, which is well within the parameters of safe operation. We are pleased with the results of the test and believe this will be a great addition to any S550 that visits the track often. While street driven Mustangs may be fine temperature wise, anyone pushing their car hard at the track may fall victim to high transmission temperatures. Ensuring that trans temperatures stay under control will certainly prolong the life of any automatic transmission.
After diving deeper into R&D, we realized that the standard cooler is actually a 6-row design, which is about average in size for a road-driven car. The Mishimoto transmission cooler was designed with racing in mind and boasts a much larger 20-row cooler to increase the amount of cooling surface area. This design makes the Mishimoto cooler a whopping 180% larger than the stock Mustang GT transmission cooler, even larger than previously thought.
Mustang Trans Cooler is now Released
Now that testing is complete, the Mustang Transmission cooler is in stock and available for purchase. Thank you to everyone who has been following along with our progress on this project, feel free to let us know if you have any questions!
As always, Thanks for reading!
-Sara