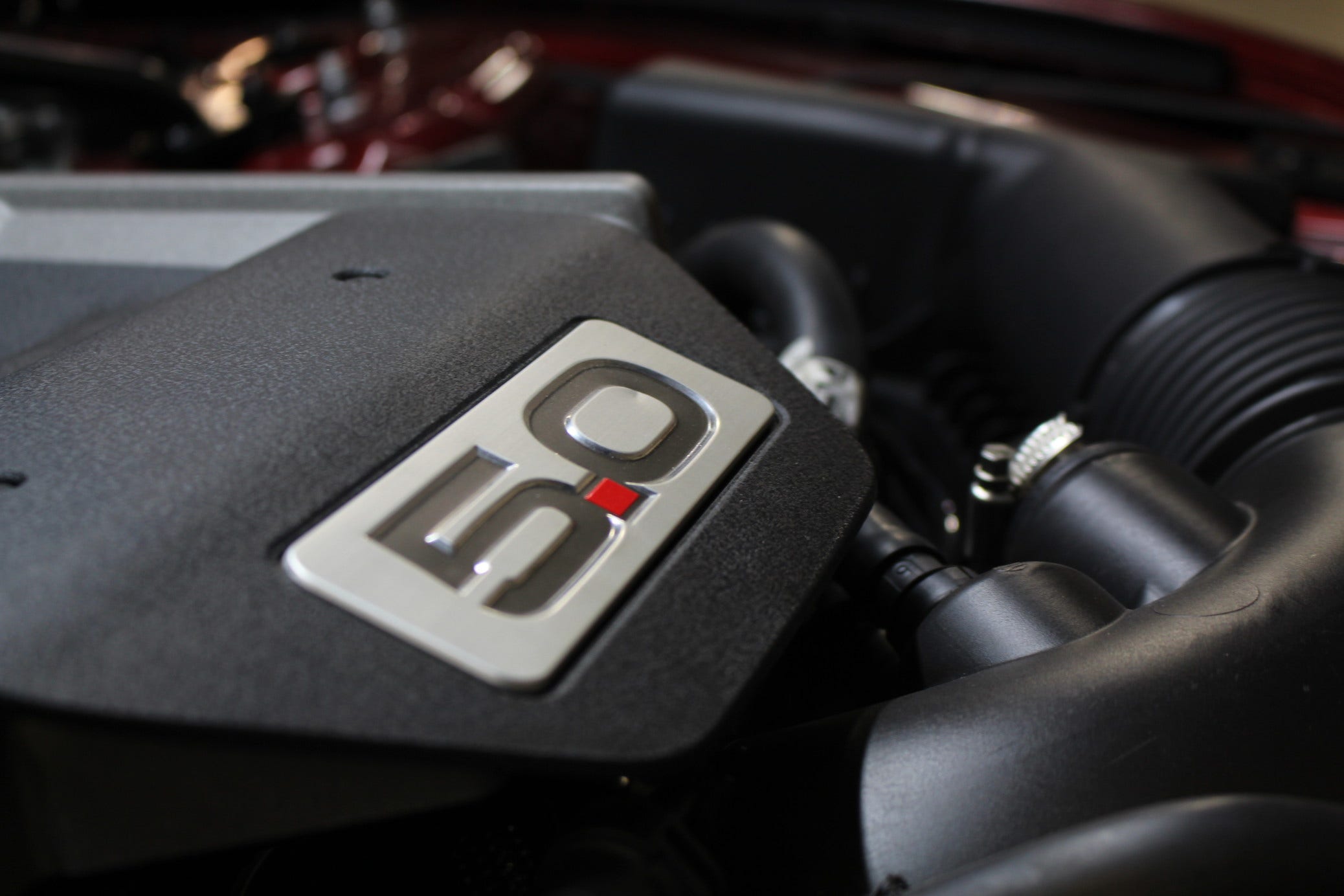 The Mustang GT Intake R&D, Part 1: The Stock System
We've had our Mustang GT for a good while now, and it's time to begin our development of the performance intake. We'll begin by quickly dissecting the stock system and deciding on the direction we'd like to go with our design.
The stock intake is fairly standard; from the center-mounted throttle body, the intake tube extends toward the driver side of the engine bay and incorporates the curved design that embodies the style of that classic V8 intake.
Above is an image of the resonator. Most modern cars today have this part as a standard component attached to the intake system. Let's check out some shots of the intake system removed from the car.
These stock 2015+ Mustang parts must compensate for the length of the front end of this car. Since this system is located some distance from the front end, the intake has a snout that grabs air right from the front grille.
Above, take a look at how the airbox houses the filter on this stock 2015+ Mustang GT intake. The box is pretty deep, so there is some distance for the air to travel before it hits the filter when it is collected from the front of the car.
Lastly, let's take a quick look at the top part of the stock intake system.
Similar to the snout, you can see another small resonator assembly attached in the path of airflow travel. Ford wanted to ensure proper induction sound on this 5.0L Coyote engine.
Now that we have gone over this stock intake system, let's evaluate our plan to make our design even better. We know that these Mustang GT's have a sensitive mass airflow (MAF) sensor. We also know that many aftermarket competitors offer intakes that require a tune. We need to ensure that our MAF sensor housing is an appropriate size, which will provide the necessary balance between safety on a stock tune and the ability to produce a good amount of power.
We intend to design a fully enclosed airbox that will work nicely with the front end of this car. The box design will be important because a lot of space remains when the stock system is removed. We have an opportunity to design an intake that will not only increase power, but also really grab the attention of anyone looking under the hood.
What's Next?
Our engineers have already begun playing around with a few ideas for designing our 2015+ Mustang parts. Check out the image above of a possible bracket design for our airbox! A prototype design is now in the works, so stay tuned for our next update!
Thanks for reading!
-Diamaan